Happy almost Thanksgiving. This week we have a deep dive into retail banking trends, coming data regulation, and an excellent primer on crypto in the context of finance.
1. The future of success is retail banking is built on data
McKinsey released research in their Reshaping Retail Banks report. The opening headline sets the tone.
The current model of universal retail banking is unsustainable over the long term. To thrive, banks need to reinvent themselves, focusing on businesses where they can achieve and extend market leadership in the new digital world.
But it's not all dire, especially when competing with tech:
Crucially, banks have real advantages against Big Tech regarding customer engagement and data, but they have yet to extract the full value of these assets.

To thrive in the new digital environment, banks will need to rearticulate their value proposition, bearing in mind the winners' lessons on the power of simultaneously simplifying and upgrading the customer experience and creating value through data. The historic value propositions of convenience, low cost, and personal relationships in the old, branch-centric world must be reinvented for a world of digital ecosystems.

If convenience was once a matter of physical ubiquity, it now depends on mobile-first experiences enabling customers to complete tasks quickly, at any time, from anywhere. In the old world, trusting relationships were underpinned by interactions with a personal banker; today trust may be founded on transparency (for example, real-time status updates) and the bank's use of data analytics to understand individual needs and address them with highly personalized solutions.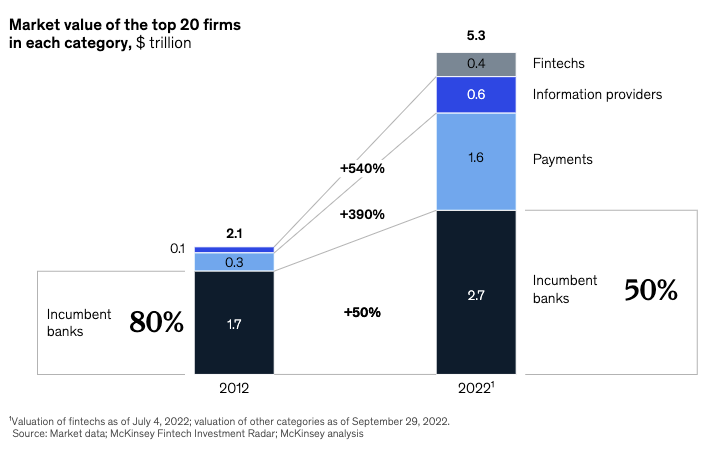 ---
2. CFPB targets consumer background checks
The CFPB continues its stepped up scrutiny of the use of consumer data.
Today, the Consumer Financial Protection Bureau (CFPB) issued two reports on the tenant background check industry. The reports describe how errors in these background checks contribute to higher costs and barriers to quality rental housing. Too often, these background checks – which purport to contain valuable tenant background information – are filled with largely unvalidated information of uncertain accuracy or predictive value. While renters bear the costs of errors and false information in these reports, they have few avenues to make tenant screening companies fix their sloppy procedures.
While not directly related to community banking, statements in the reports from the CFPB and FTC show an increased focus on consumer data usage, compliance, and the volume of enforcement. This echos the growth in CRA related actions by the Justice Department.
The takeaway is that leveraging customer data, particularly 3rd party data, will become more difficult and risky. However, back to our first story, doing this well will yield even larger returns for banks and credit unions that can successfully use their 1st party data to interact with customers in a more personalized way.
---
3. So what's all the fuss over crypto
With this week's colossal collapse of crypto platform FTX and the long-reaching regulatory and legal drama to follow, crypto is becoming even more relevant to finance and banking. It's worth taking a moment to look at the big picture and understand how we got to this point and maybe where it's going from a financial services standpoint. Matt Levine at Bloomberg has an excellent history and explainer on the overlap in traditional finance and what crypto has done in the past 14 years.
This year… the price of one Bitcoin fell below $20,000; the total value of crypto fell from $3 trillion to $1 trillion; some big crypto companies failed. If you're a crypto skeptic, this was very satisfying, not just as a matter of schadenfreude but also because maybe now everyone will shut up about crypto and you can go back to not paying attention to it. For crypto enthusiasts, this was just a reason to double down on grinding: The crash would shake out the casual fans and leave the true believers to build the future together.

In a sense it's a dumb time to be talking about crypto, because the lines went down. But really it's a good time to be talking about crypto. There's a pause; there's some repose. Whatever is left in crypto is not just speculation and get-rich-quick schemes. We can think about what crypto means—divorced, a little bit, from the lines going up.
---
And that is it for the last Friday before Thanksgiving. And if you're visiting friends or family on Thursday, bring a desert. We hope you find these useful. If so, let us know. If not, let us know. blog@mindspaninc.com.