This week we look at the growing trend in Community Reinvestment Act (CRA) enforcement, what the Fed can learn from Brazil in real-time payments, and the great reset for marketers in the digital age.
---
1. CRA enforcement on the rise
Tracey Tully of the New York Times writes on the $12 million settlement by New Jersey community bank Lakeland Bank with the Justice Department around alleged redlining of Black and Latino neighborhoods.
The agreement with Lakeland follows similar settlements negotiated in the past year by the Justice Department with lending institutions in Houston, Memphis and Philadelphia, and is believed to be the third largest of its kind. Only a $25 million settlement with New Jersey-based Hudson City Savings Bank in 2015 and an $18 million settlement with Trident Mortgage involving redlining in the Philadelphia area in July were larger.
Of note is Lakeland's pending M&A deal with Provident Bank and the implication that litigation could slow/impede the transaction.
Lakeland, a community bank in the midst of a negotiated merger with a rival institution, Provident, operates 68 branches in central and northern New Jersey and in New York's Hudson Valley. …Lakeland and Provident Banks announced on Tuesday that they had agreed to a $1.3 billion merger to create a "pre-eminent super-community bank."

A spokesman for Provident Bank, Keith A. Buscio, said Wednesday's federal settlement, which a judge must approve before it could take effect, would not derail the merger.

"We were aware of the pending settlement and fully considered it when agreeing to the merger with Lakeland," he said in an email.

<DOJ representatives> said that Lakeland would not be permitted to satisfy the terms of the settlement by simply adding Provident branches to its portfolio, and would be required to open an entirely new branch in Newark.
As with the uptick in CFPB activity, you can reasonably expect more scrutiny and less favorable subjective scoring in future examinations. Addressing NPS and complaint resolution can be a better and long term more profitable approach compared to costly fines and stop-gap measures.

2. Realtime Payments
The Fintech desk at a16z presented a comparison of the Federal Reserve's proposed FedNow real-time payment network with lesson's Brazil's PIX system, launched in 2020.
Less than 1% of U.S. transactions and spend settled in real time last year. Compare that with India, the global leader in real-time payments, which processed over 30% of total payments volume in real time in 2021. Brazil is also quickly catching up. Banks also don't often advertise RTP to their customers. The cynical view is that banks, as card issuers, earn fees on credit card interchange, among other reasons, so they might not be incentivized to promote RTP, even if they are integrated.
Among the differences in markets and central bank mandates between Pix and FedNow, was the role neobanks played in the consumer facing aspect of PIX's introduction:
it is important to note that PIX adoption may have accelerated due to sponsorship by challenger neobanks. The growth of PIX has coincided with the acceleration of Nubank, Inter, and other digital banks that do not have large profit pools in some of the disrupted service lines (wire fees, ATMs, merchant acquiring) and have therefore been strong advocates of the free service.
While not quite the disruptive innovation PIX was, FedNow is a potential pathway for more expansion by fintech payment capability, particularly considering the negative PR and regulatory pressure on traditional solutions like Zelle.
---
3. Meet the new <marketing> boss, not the same as the old boss
Christopher Penn of Trust Insights writes on the The Great Marketing Reboot, and the massive increase in turnover in marketing, both in house and at agencies.
When you look at 2020 and beyond for professional services job churn, the train leaps off the rails. We've hired more in the last 2 1/2 years than ever before. We've separated more (quits + fires) in the last 2 1/2 years than ever before.

But the really telling line is that orange line – that's the number of job openings. You can see that the pandemic utterly decimated the professional services workforce in March/April 2020 – and the pace of hiring has not kept up with the number of openings. Even with layoffs and a recession, there are still over 2 million professional services jobs left unfilled – and there's a tremendous amount of churn. How do we know? The green line is hires. The red line is separations. We see they're marching together, which means as fast as we're hiring, people are leaving one way or another, too.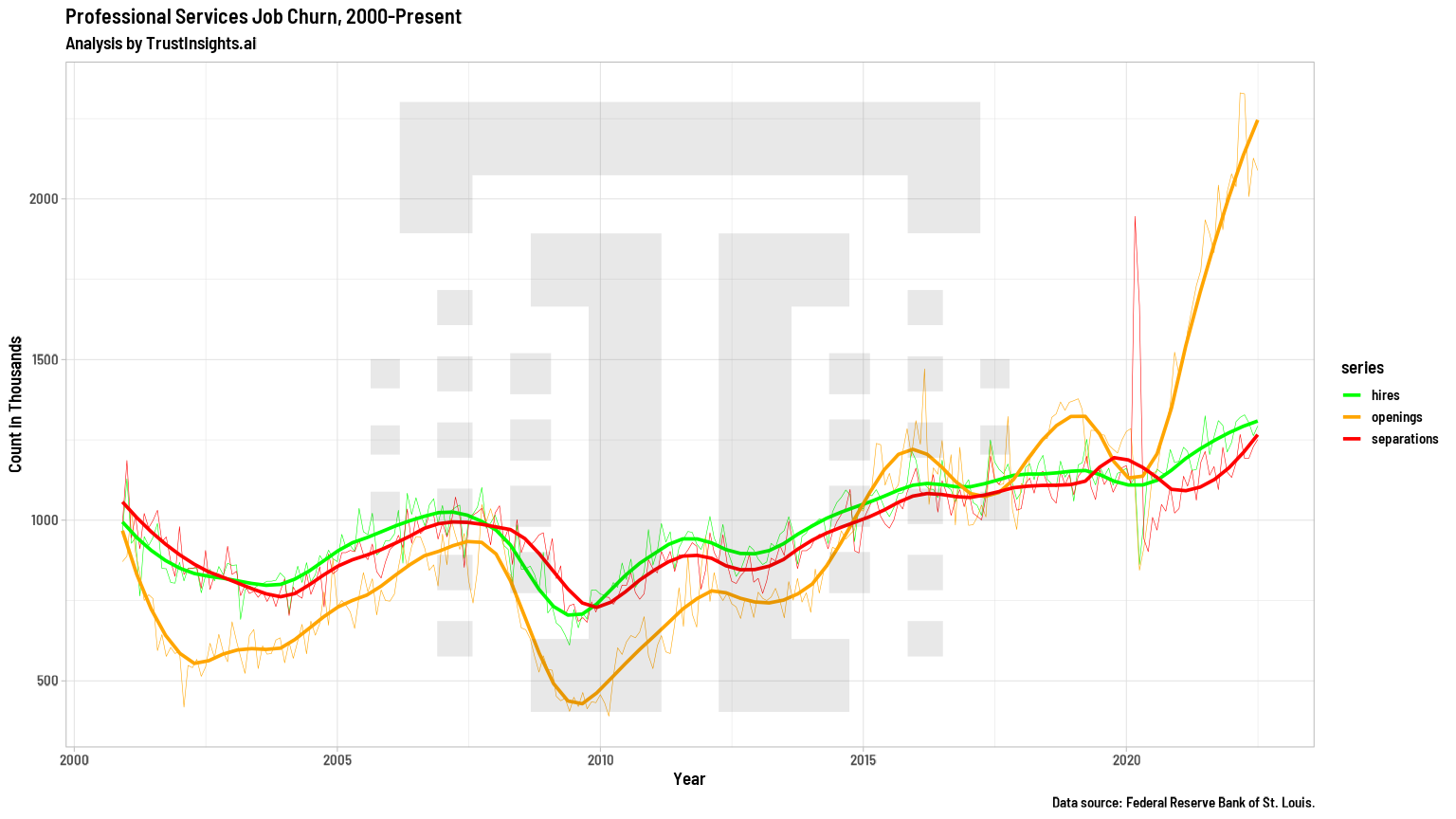 The net effect is both a massive loss in institutional knowledge and the opening up of new opportunities for almost any effective marketer.
If you're a marketing manager, there's never been a better time to start documenting what you do, why you do it, and how to do it at your company. As you can tell by the chart above, the level of instability in the job market isn't going away soon – we have millions of unfilled jobs, which creates a lot of churn on its own as candidates can basically name their price and hop from job to job until they find what they like. And if you're at a company that announces a hiring freeze, do anything and everything you possibly can to retain your people. Hiring freezes are arguably worse than layoffs because you slowly bleed to death as the remaining people inherit the remaining workload and burnout ramps up like crazy. Fire customers, beg, borrow, and borrow quietly any resources you can to keep your people around.
---
And that's a wrap for the first week of October and 3Q. It's also time to get your brackets ready. My money is on 909JR. How are we doing? Drop us a note, even a mean one, to blog@mindspaninc.com.