For this week, likely the last "work" Friday of the year, we have a look at increased oversight for fintech and neobanks by the CFPB and more consumer trend insights with where there is optimism.
---
1. Stricter oversight for nonbanks
The Consumer Financial Protection Bureau (CFPB) announced a proposed rule requiring nonbank financial companies to register with the CFPB:
The proposed rule would require certain nonbank covered person entities (with exclusions for insured depository institutions, insured credit unions, related persons, States, certain other entities, and natural persons) to register with the Bureau upon becoming subject to a public written order or judgment imposing obligations based on violations of certain consumer protection laws.
The rule is intended to watch sanctioned companies for repeat violations more carefully. CFPB Director Rohit Chopra has been outspoken about the need for harsher penalties for habitual violators of consumer data protection laws. In his speech in May, Chopra referenced how the record $5B fine levied in 2019 against Facebook had no material effect on their practices. The market also noted the likely minimal impact driving up Facebook's market cap by $40B in after-hours trading after the initial announcement of settlement talks.
The story's lede is about more regulation for fintech and neobanks. However, the underlying theme for community banks and credit unions is the increased scrutiny of consumer data stewardship. Using this continued trend as an excuse to lock up your own data would be a mistake. First-party data is the basis of competitive advantage. Without an effective data governance strategy that addresses both compliance and your customer's needs for personalized service, your institution will be on a path of undifferentiated irrelevance.
---
2. Consumer growing optimism
Dan Frommer of The New Consumer has put out his end of year Consumer Trends Report. Always worth a read for all the hard data on consumer sentiment and behavior. The report heavily covers how economic activity has changed and whether consumer sentiment is "post-Covid":
Air travel has now recovered around 95% in the US
Restaurant dining is effectively back to normal in the US
Just 37% of US consumers now expect the pandemic to be a long-term disruption, the lowest since March 2020
Americans say inflation is the biggest problem right now — COVID fell to 7th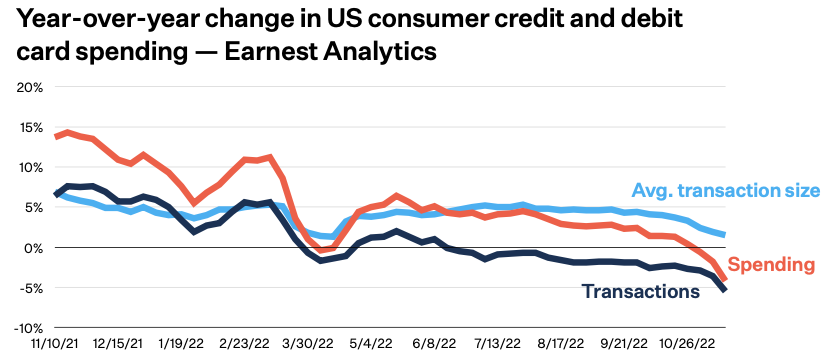 And much like our previous look at Gen-Z's financial optimism overall sentiment about personal finance seems to be improving:
43% say they feel "moderately" or "very" optimistic about their financial situation over the next 12 months. That's down from 57% in our July 2021 survey, but up from 35% in June 2022.
The whole report is worth looking at, particularly for the role TikTok and celebrity brands play in consumer decisions by generation.
---
And so ends this week's post. How on earth did the Queen edge out Betty White? How'd we'd do this week? We'd love to hear your thoughts at blog@mindspaninc.com, and share below if you please.