And so, with November, it's time to put away that 12' Home Depot Skeleton and get ready for the Christmas music to start. But before the weekend, we have a few quality reads for you. First are a few items looking at the slowdown in fintech. Also, we have a must-watch talk about a scrappy group of finance and tech workers jumping into the breach to help during the darkest days of the pandemic.
---
1. Fintech funding drops, layoffs announcements start
Fintech funding has dropped to a 2-year low, according to CB Insights' State Of Fintech: Q3 2022 Report.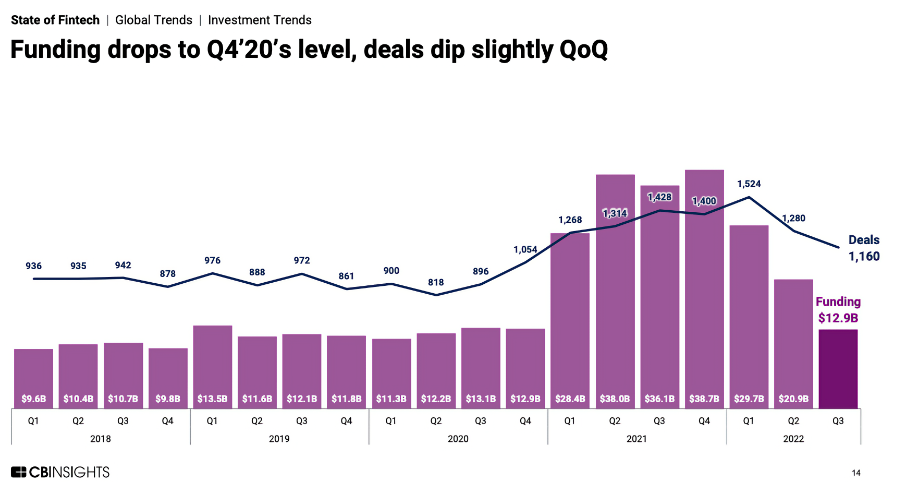 US fintech funding plunged 43% QoQ to $5.1B, reaching its lowest point since Q1'20. However, the US continues to lead global funding share by a large margin. US fintech deals fell by 26 QoQ to 454. The top US fintech deal went to insurtech Pie Insurance, which raised a $315M Series D.
In knock-on fashion, the first wave of layoffs from fintech companies have been announced with Stripe cutting headcount by 14%, and Chime dropping 12%.
One thing to keep in mind to quote Littlefinger, "Chaos is a ladder". Are there technologies or broader business capabilities you might be able to acquire from struggling startups that won't be getting that next round of funding? What talent that has had a front-row seat to the scaling of fintech might you be able to recruit from the firms shedding headcount en mass?
---
2. An inspiring story of those who help
Patrick McKenzie (aka @patio11) of Stripe, who we have discussed many times before, talks about the almost flash mob effort that went to VaccinateTheStates.com, a volunteer effort to connect older adults with available vaccines early last year. During the roll out of Covid vaccines in the US at the end of 2020, distribution to the over 65 population targeted for initial vaccination hit a roadblock due to information flow.
There were multiple reports in the media of people, largely people who were managing care for others. So perhaps the child of elderly parents, who were sequentially calling 20 or 30, or more health care institutions to try to find one place that had current supply of the vaccine so that they could get their parent in line for a dose which under the state of California is rationing policy…. At the time even though California had millions of doses, only 37% of the doses it had sent to it were getting out there.
Which prompted this tweet:
Crediting more his World of Warcraft skills than his experience in engineering and fintech, McKenzie and the globally displaced team embraced a radical bias for action:
You tweeted on the 14th/15th, you launch something. And you are up by the 19th….
We went live on that first day, on the Thursday AM we had our first confirmed report of someone getting vaccinations scheduled for their parents that afternoon at about 3pm, California time.
The systems setup by VaccinateTheStates eventually helped millions find available vaccines, but also ended up helping power many county health departments and eventually vaccines.gov. This an inspiring story of everyday people stepping up to the aid of others in a crisis. It's also a valuable source of lessons learned about public/private cooperation, particularly about the friction of utilizing what was then a very deep and latent pool of volunteer talent during a worldwide emergency. [The whole talk is worth watching]((https://businessofsoftware.org/talks/lessons-scaling-non-profit/).
---
And that's for this first Friday in November. Turns out, 2001 wasn't as much fiction as just science.. If you made it to the end here, send us a note at blog@mindspaninc.com. Let us know what you got out of this.