First, thanks to many of you that downloaded and sent feedback on our latest e-book on conquering the 5 most common hills to personalization. You can read more about it here.
For community banking news this week, we have the CFSB's move toward eliminating NSF fees, the confidence gap in marketers and their ability to provide personalized experiences, and one of the big dogs in data and business intelligence in trouble.
---
1. CFPB proposes new NSF rules
Revealed in the OMB's agency rule list, Consumer Financial Protection Bureau (CFPB) had made two prerule proposals concerning regulations for non-sufficient funds fees and overdraft financing fees.
Until recently, NSF fees were a significant source of fee revenue from deposit accounts for depository institutions; lately some financial institutions have voluntarily stopped charging such fees. The Bureau is considering new rules regarding NSF fees.
While the nature of overdraft services, including how accounts can be overdrawn and how financial institutions determine whether to advance funds to pay the overdrawn amount, has significantly changed since 1969, the special rules remain largely unchanged. The Bureau is considering whether to propose amendments to Regulation Z with respect to these special rules.
Coming as a surprise to no one, the CFPB is moving from signaling its intent to starting the rule-making process to curb or eliminate many consumer banking fees. While there are often carve-outs for community banks and credit unions (see the Durbin amendment's $10B asset floor), there's no guarantee you wouldn't be forced into following these rules from a competitive standpoint.
Questions to ask yourself:
What would the impact to our Non-Interest Income and margins should regulators reduce or eliminate NSF fees?
How could you mitigate this impact? What changes could you make to your business model, customers you are targeting, or types of products and services you offer?
This is not new. The agency's Director Rohit Chopra has been very vocal on the topic in public speeches and was placed in this role based on similar efforts at the FTC previously. Even if you think political and industry pressure will dampen or delay efforts, you need to develop a plan for what action you would take.
---
2. Personalization remains an elusive goal for marketers
Salesforce updated a snapshot of their ongoing survey of marketers on the state and trends in personalization. Running since 2016, the survey looks at the use and trends in personalization by marketers and, importantly their confidence in their capabilities:
What stands in the way of personalized marketing?

Poor data management
Lack of organizational alignment
Lack of budget


57% of marketers will increase their personalization budget. 99% of marketers plan to increase or maintain their personalization budget in the coming year.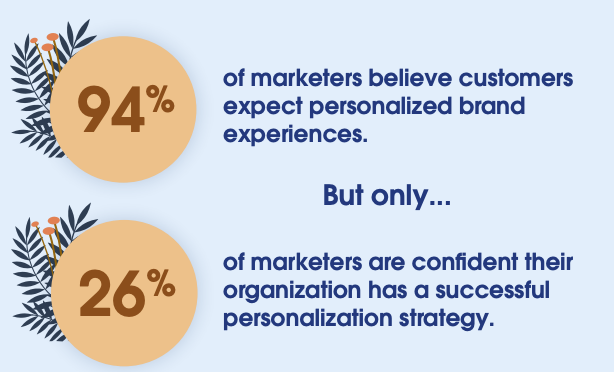 ---
3. Tableau takes a step backward
And speaking of Salesforce, this week they announced severe cuts at their juggernaut business intelligence product Tableau, prompting the Bloomberg reporting to use the word "gutted". Like the entire tech sector, layoffs abound, but seemingly more at the Seattle-based business unit.
Salesforce Inc. division Tableau was hit harder than other units in the company's largest-ever round of jobs cuts this week, adding to a major reorganization that signals the $15.7 billion acquisition hasn't lived up to expectations.

Tableau is increasingly being treated as a visualization tool for data contained in Salesforce's other services rather than a standalone program — co-founder and CEO Marc Benioff highlighted the new integrations in a December keynote speech. The division has trailed the rest of the company in sales growth since the acquisition.

Most of the executives listed on Tableau's leadership site when the (2019) acquisition was announced have since left the company. The Tableau leadership web page ceased to exist in mid-2022, according to the Internet Archive's Wayback Machine. Today, the URL redirects to the page for Salesforce leadership, showing Benioff atop the company.
---
And so closes the week. Don't let anyone rain on your parade, even if they have a piano. And drop us a line at blog@mindspaninc.com. We love all the feedback we get, even the criticism. Keep it coming.