Happy Friday! As always, we pull together a quick rundown of noteworthy news for the community banking leader to see that's must-see or not well covered elsewhere. This week we have the trends from 4Q earnings calls for banks and the offense and defense the CFPB seems to be playing in the courts and press.
Also, for the CU crowd, it's worth looking at the detailed coverage of CUNA's Governmental Affairs Conference in Washington this week, particularly the feedback and agenda from congressional members speaking at the event.
---
1. Tale of the tape for 2022 Banking Performance
Gina Heeb of the Wall Street Journal has a rundown of banking at the end of 4Q earnings calls. As a sector, profit's were 2nd only to 2021, which left a tough compare of 6% decline year of year. Performance did receive a boost from net interest margin.
Higher interest rates pushed up net interest income 20% from a year earlier in 2022. Noninterest income, which includes fees that the banks charge consumers and corporate clients, fell about 3%.

Higher rates meant banks could charge more on loans. And since banks were flooded with deposits in 2020 and 2021, many of them have been slow to raise rates on deposits. A crucial measure of bank profitability, net interest margin, widened to 2.95% in 2022 from 2.54% a year earlier.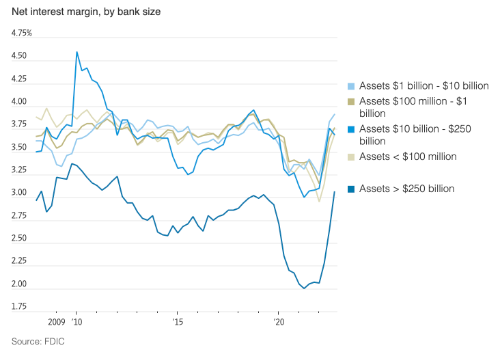 However, worry about loans is rising.
Rapid inflation and the end of pandemic-era stimulus programs made many bank executives worry about their consumer-loan books, and they set aside more in rainy-day funds.

"I think banks had gotten understandably very used to significant liquidity and very low rates," Jill Cetina, associate managing director at Moody's Investors Service, said at an event for clients, investors and other market players this week. "Now we are starting to see some pressures begin to emerge."

On fourth-quarter earnings calls, many bank executives said they are preparing for more Americans to fall behind on loans, especially if the U.S. enters a recession as some analysts expect. Banks stashed away $51.6 billion for potential loan losses in 2022, after releasing $31 billion in provisions the previous year.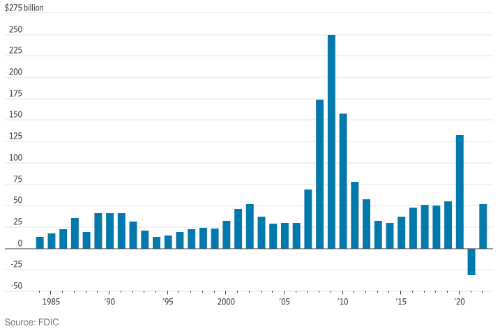 ---
2. The CFPB in the news
We have three items to highlight this week on the always headline-grabbing Consumer Finance Protection Bureau (CFPB) most relevant to community banking.
Supreme Court to hear case on agency funding: Stemming from a suit on the regulation of payday lenders, the case looks at the question of the constitutionality of the funding and accountability of the agency to congress. The CFPB, established as part of Dodd-Frank reforms in 2010, draws its budget directly from the Federal Reserve without congressional appropriation, and its director can only be removed by the President with cause.

More scrutiny on provider fees and government assistance: The agency's spotlight report points to another potential target in the fees financial service companies impose on recipients of federal cash assistance programs like social security, SSDI, and TANF.



Some prepaid card providers charge numerous fees, such as maintenance, balance inquiry, customer service, or ATM fees, that chip away at people's benefits.
Inadequate customer service from prepaid card providers means that a single problem, such as unauthorized charges on a card, can create a cascade of problems when customer service isn't available or responsive in a timely manner.

Banking trade groups ask for extension on credit card fee data: In a joint statement from the ABA, CUNA, and others (like a similar appeal last week on debit card rules) banking trade groups asked for more time to collect data on credit card penalty fees. These fees, covered under Regulation Z, have been a focus of the agency and the Biden administration. Bundled with other "junk fees," and even appeared in the President's State of the Union address in January.
---

And that's it for this first week in March. Our robot overload is here, and its name is Mittens. As always, thank you for reading. We aim to equip you as a community banker better, so let us know what you like/hate at blog@mindspaninc.com.