Twilio's Segment published their State of Personalization Report 2023. In conjunction with Method Communications, Segment surveyed 3,000 consumers and 500 consumer brands to identify key trends in consumer marketing and general consumer sentiment.
Some of the key insights from their research:
69% of brands are increasing their investment in personalization, even in the face of budget challenges
9 in 10 are using AI to drive their personalization
Consumer trust in both data privacy and its use in AI for personalized experience are the biggest challenges
56% of consumers say they will become repeat customers after a personalized experience, a 7% increase year-over-year.
"…consumers want to feel like VIPs when they're interacting with businesses – with more than half of consumers saying they're more likely to make a purchase if they're offered a personalized experience."
With this excitement, however, are some common obstacles.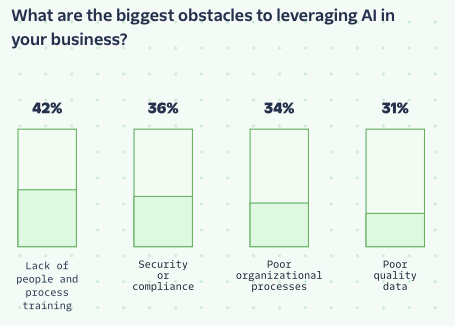 Despite these barriers, there are opportunities for clear economic and competitive gains. The hurdle for technical skills is lowering every day, powered by AI. And even in the regulatory alphabet soup of banking, community FI's and their customer can benefit from leveraging 1st party data.
If you're interested in personalization at your community bank or credit union and aren't sure where to start, schedule a meeting with us. We specialize in helping community FI's provide the personal, one-on-one service they are known for in all their channels. Schedule a call to learn more about what's possible no matter where you are now.