This week an alternate view of the threat to humanity from artificial intelligence, the national fiscal turnaround of Greece, and a couple of frameworks on thinking of the future.
Thanks to Mehmet Gonullu for having me on his podcast this week to discuss the opportunities for community banks and credit unions with 1st party data and AI.
---
1. AI - terminator robot or mechanism of class warfare
In all of the side stories about the likely impact this next wave of AI will have, Ted Chiang writes in the New Yorker on how AI is less an apocalypse machine and more malevolent consulting firm.
A former McKinsey employee has described the company as "capital's willing executioners": if you want something done but don't want to get your hands dirty, McKinsey will do it for you. That escape from accountability is one of the most valuable services that management consultancies provide.

Even in its current rudimentary form, A.I. has become a way for a company to evade responsibility by saying that it's just doing what "the algorithm" says, even though it was the company that commissioned the algorithm in the first place.
Ted certainly expresses his spikey point of view here and doesn't shy from politics. However, there are some strong arguments for the potential of AI to strengthen the hand of incumbents (particularly in tech and finance sectors) and create a back door into extreme "winner take all" industry consolidation.
---
2. Greece's 'greatest turnaround'
In the vein of bailouts and the role of government in debt markets, the FT has the story on the country of Greece's debt returning to investment grade.. The long and painful path to creditworthiness was largely unexpected.
"There [had been] many voices asking for Greece to exit the eurozone. They were arguing that the country's debt would never be sustainable, that it will be impossible to achieve primary surpluses, and that its banking system will not be able to reduce its stockpile of bad loans," he said. "In the end, nothing is impossible."

After years as Europe's problem child, growth in Greece is now rocketing. The economy made one of the strongest recoveries from the Covid-19 pandemic, with gross domestic product expanding 8.4 per cent in 2021 and 5.9 per cent last year.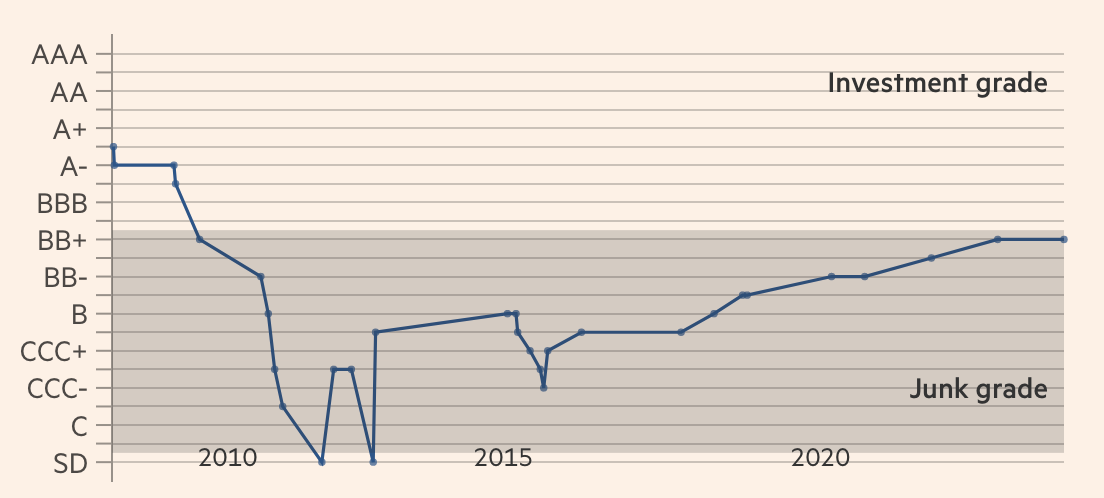 Michael Lewis' book Boomerang on the global fallout from easy money and 2008's great recession had this to say about Greece in 2011:
"If Greece walks away from $400 billion in debt, then the European banks that lent the money will go down, and other countries now flirting with bankruptcy" might easily follow, destabilizing regional and world economies further. He also explains why taxpayers in Germany — the euro zone's largest economy, with resources critical to a rescue plan — are reluctant to keep bailing out other countries they regard as profligate, indolent and irresponsible.
---
3. "The present is the past biting into the future"
The quote above is from the famed inventor and founder of the Polaroid corporation Edwin Land. He went on to explain:
We live in a world changing so rapidly that what we mean frequently by common sense is doing the thing that would have been right last year.
This idea infused his thinking and led to a staggering level of innovation across an impossibly long tenure of running Polaroid from its founding in 1932 to his retirement in 1982.
His impatience and tenacity in bringing his imagined future into reality would be a model for many future visionaries, including super-fan Steve Jobs.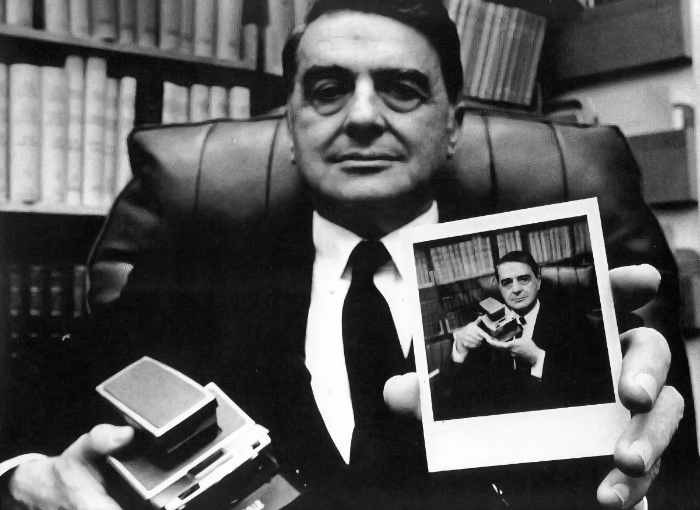 And his quote still rings true. We can see how our world and industry have rapidly shifted in just the past few years. And that change is not slowing down.
Being aware of the trap of the status-quo and rejecting any notion of "that's how we've always done it" is how to survive shifts in business, society, and generations.
Tim Urban provides this picture of how the past led to today but doesn't dictate tomorrow.
We think a lot about those black lines, forgetting that it's all still in our hands.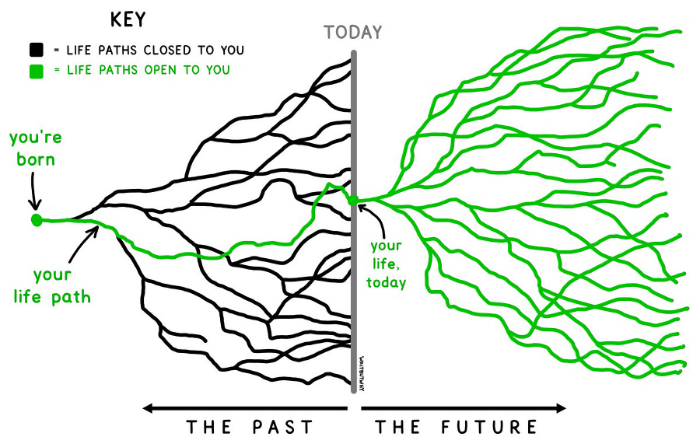 Remember that your job, to quote Seth Godin, is to make a ruckus. For our organizations, for our customers and members, and for our communities.
---
That's a wrap for the week. At this time, we must ask ourselves is Wes Anderson the better Peter Jackson?. Thanks for reading. Let us know what you loved or hated at blog@mindspaninc.com; it really helps hone the topics and focus for you.