3 items from this weeks news: the state of fintech investment, Plaid gets into payments, and payments in general grows.
---
1. Record levels of funding continue to flow into fintech
Bill Baxter of MUFG with CB Insights gives a run down of the continued acceleration of funding and growth in valuation in fintech startups.
$14.6B US quarterly funding - US fintech funding grew 121% YoY to hit $14.6B in Q3'21. The US accounted for nearly half of total Q3'21 funding, despite making up just 39% of total deals.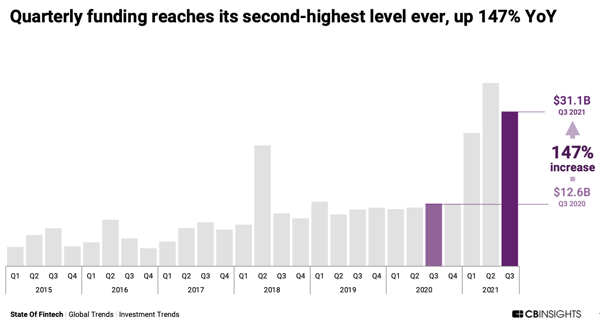 ---
2. Plaid stirs it up with entry into payments
Fintech infrastructure unicorn Plaid announced last week that it would expand it's offerings to enable digital payments by consumers and business funded by bank accounts.
Plaid won't be directly involved in moving money as part of the new endeavor. For that, the company signed up dozens of payment processors and tech companies in North America and Europe, including Square, Stripe, Silicon Valley Bank, and SoFi's Galileo unit. Those companies would then give their customers a pay-by-bank option alongside other payment methods, such as credit or debit cards.
---
3. Payments market continues to top finance opportunity
And speaking of payments, BCG published a report showing the counter trend of growth in payments, driven largely by cash to non-cash conversion and e-commerce adoption.
The payments sector has outperformed the banking sector in total shareholder returns by about 2x from 2011 to 2021
Fintechs today account for roughly 5% of banking revenue in the US and as much as 20% in payments-related fields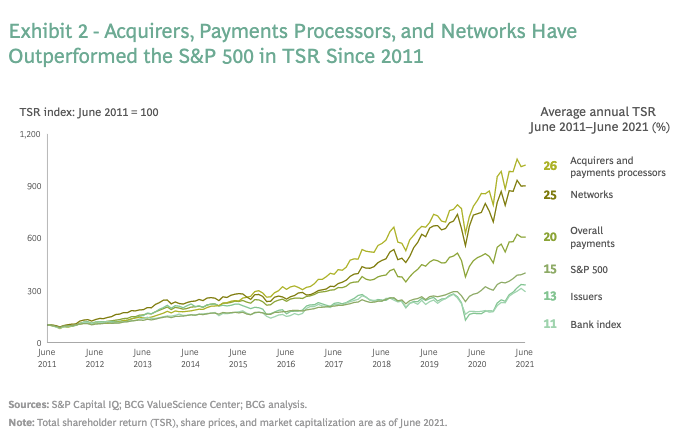 That's it for this week. Comments and suggestions to blog@mindspaninc.com.