For the ever-busy marketer and strategist in community banking, we bring you a few quality reads this week to keep you in the know. The week another player in the Fintech platform business, major M&A in the technology space, and what is the core job of the CMO.
---
1. More options for Fintech access to the banking system
Dan Primack of Axios writes a quick note about Column, a chartered bank aiming to be a core provider to Fintech companies. Column is led by William Hockey, who previously founded Plaid in 2012.
What it does: Column, which Hockey co-founded with his wife Annie, is banking infrastructure for fintech apps.

It bought a nationally chartered bank called NorCal for around $50 million last year and has been rebuilding its core tech from scratch — quietly going live around six months ago as an alternative to middleware providers and core processors, for fintechs or shadow banking firms that are otherwise prohibited by Fed rules from providing banking services to users.
Hockey claims the company is already profitable, with clients like Plaid, Brex and Oxygen. It has around 65 employees.
---
2. Investment and M&A continue their pace in Fintech
CBIsights delivered their State of Fintech Q1'22 Report. In addition to overall trends in areas and geographies in funding, the report covers major acquisitions, including the core platform buys by SoFi and Fiserv, as well as Plaid's KYC acquisition:
5 of the top 10 M&A exits were valued at $1B+. There were 5 M&A exits valued at $1B+ in Q1'22, while Q4'21 saw just 2. Four of the 5 acquired companies are based outside the US.

The top M&A deal in Q1'22 was Coinbase's $2.2B acquisition of 2TM, owner of Mercado Bitcoin, Brazil's largest crypto exchange.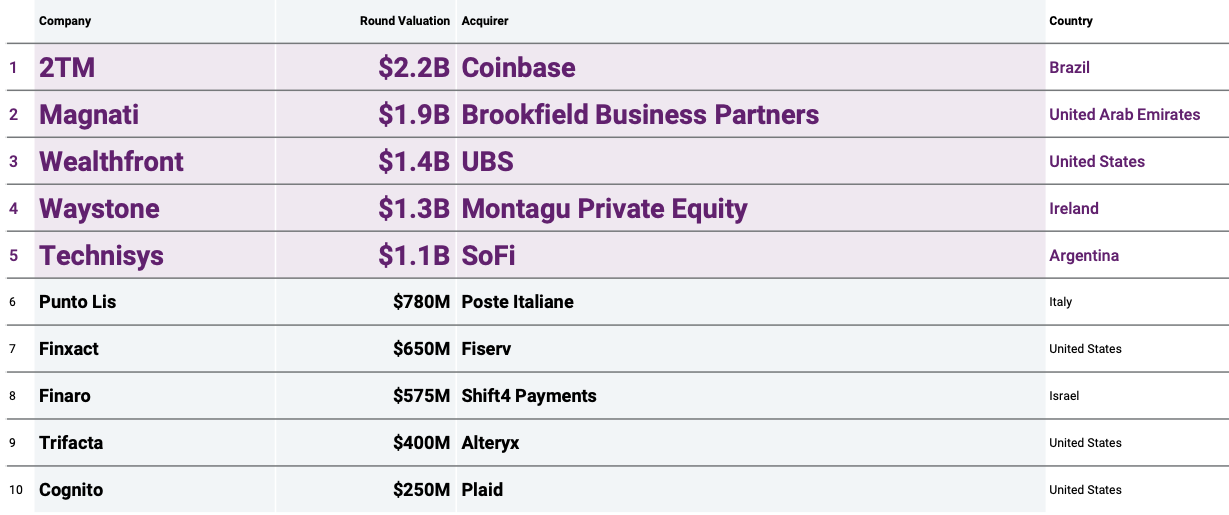 ---
3. CMO as the defender of the Brand
Seth Godin writes on the real role of head marketer in any organization.
If you're that kind of marketer, you quickly come to learn that the single most important part of your job is being sure that you make great products and services. Because sooner or later, the experience is the brand. Sooner or later, the story you tell needs to be true.

Which means…

That your main job is persuading the people you work with to ship great stuff. No junk. No shortcuts.
---

That's it for this week. It costs over $53K per year to attend MIT. Let us know what you think at blog@mindspaninc.com. Also, be kind and share below.