This week we're looking at two topics, the opinion of interest rates and regulatory effects on community banking in 2023, and the growing trend of acquiring companies with built-in audiences to avoid unpredictable media channels.
---
1. Leader's mixed sentiment for this year
Inflation and regulation top the list of concerns this year according to the Conference of Start Bank Supervisors survey of community banking leaders.
Many community bankers warned of a nationwide economic recession. And with high inflation and recent rapid increases in interest rates, they fear a difficult financial environment ahead for banks. One banker said, "deposit rates are increasing at an incredible speed." Another said, "our interest expense has nearly doubled in the past four months, and we expect our Net Interest Margin to contract into next year…liquidity is going to be a far bigger challenge for us in the next 12 months." And a third added, "the thing we are most concerned about are the rising deposit rates in the market."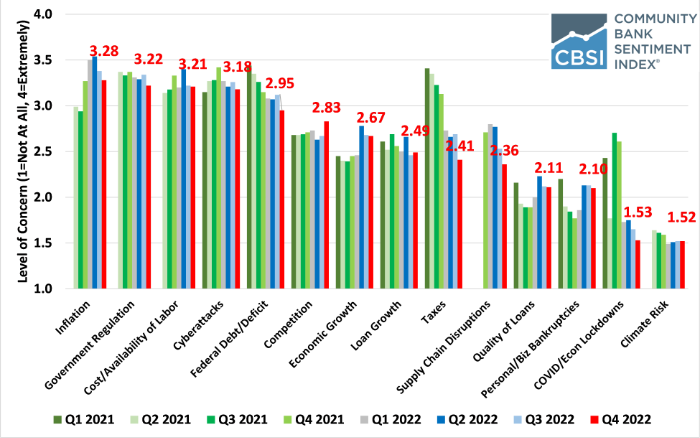 In contrast, are recent cross industries surveys showing CEO's preparation for a downturn, but the majority planning on increasing headcount this year. Across surveys from Ernst and Young, PwC, and Greenhouse, talent retention is a priority, even for leaders pessimistic on the economy and seeking cost-cutting. The recent unexpected jump in jobs supports these attitudes.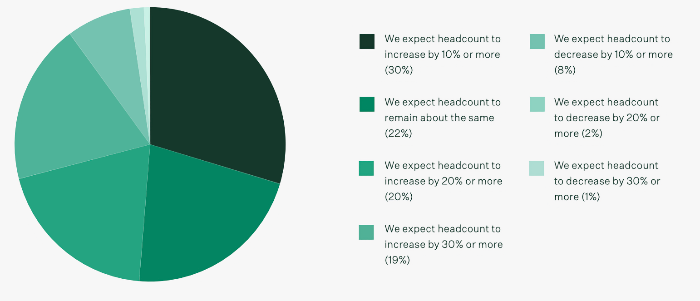 ---
2. Every company will be a media company
CBInsights writes on recent media company acquisitions by product and service companies as a way to capture a controlled channel to their customers.
Stripe bought IndieHackers (and also owns/operates Stripe Press). IndieHackers has created a community catering to primarily bootstrapped or revenue-funded software founders and developers building technology companies.

Over the last month or so, JP Morgan has purchased 2 content/media assets. In early September 2021, it bought The Infatuation, a publisher that offers reviews and recommendations on restaurants in 50 cities across the USA and internationally.

Yes, JP Morgan — the world's largest financial services institution, the one sporting a market cap that is almost equivalent to all the fintech unicorns combined — is going deep on niche media and content.
This tactic is driven by digital advertising and social media's increasingly expensive and unpredictable performance communicating with customers and prospects. Chris Penn of Trust Insights captures the idea as reliable reach as a strategic imperative.
Reliable reach, in other words, is disintermediated reach. There's nothing between you and your audience – and those channels are going to be vital to our survival as marketers, as brands in the coming years. Without them, we will have no way of reaching our audiences, and we may not even be able to buy our way to the audience with advertising. Ask anyone who tried to advertise during a recent election just how much ad inventory they could even get, much less afford.
YouTube car reviewer and owner of car auction site Cars and Bid Doug Demuro recently shared his experience and economics of audience creation and the interest of enterprises in buying into business models like this.
Alternatively, some advertisers are approaching the problem of addressable technology (i.e., serving ads to named audiences). Emerging approaches, each battling to become the industry standard, include the EU-focused Panorama ID from Lotame and Unified ID developed by The Trade Desk (being deployed on Hulu and Disney+ new ad-supported tier).
The takeaway here is the growing value of direct communication with your market. The more you own that channel, the more valuable your relationship is. Companies across the board are increasingly unwilling to pay the tax to the owner or the rails, whether advertising channels or device manufacturers (looking at you Apple).
–
That's it for this week. It's true everywhere that no one like a long commute to work. Also pandas are just goofy toddlers. Thank you for reading. Your feedback drives how we put this together, so let us know how we're doing at blog@mindspaninc.com.