As we roll into the weekend, we bring you a deeper look at Buy Now Pay Later (BNPL), potential regulatory gaps, how some leaders in the space see the future, and where the investment dollars are going.
---
1. BNPL 101
This week the Consumer Finance Protection Bureau (CFPB) released an 82-page Market trends and consumer impacts report. The paper relies on data collected from Affirm, Afterpay, Klarna, PayPal, and Zip/Quadpay, leveraging a provision of Dodd-Frank. The report not only provides a good primer on the industry and current dynamics but also points to where regulators are looking to address risks to consumers:
Discrete consumer harms: The BNPL product is often structured in ways that may present borrowers with undesirable operational hurdles, including the lack of clear disclosures of loan terms, challenges in filing and resolving disputes, and a requirement to use autopay for all loan payments.

Data harvesting: Similar to many other large tech platforms, BNPL lenders often collect consumer data—and deploy models, product features, and marketing campaigns based on that data—to increase the likelihood of incremental sales and maximize the lifetime value it can extract from each current, past, or potential borrower. These practices (which may become even more prevalent and profitable as third-party data tracking becomes more difficult on iOS6 and Android7 operating systems) may compromise consumers' privacy and autonomy and contribute to the overextension risks described below.

Overextension: The BNPL business model may encourage overextension, and in doing so present a pair of risks: loan stacking, which can cause borrowers to take out several loans within a short time frame at simultaneous lenders; and sustained usage, in which frequent BNPL consumption over a period of months and years may affect consumers' ability to meet non-BNPL obligations.

---
2. Affirm see sunnier days ahead
And speaking of leaders in the space, Max Levchin, CEO of BNPL provider Affirm, writes on their risk exposure in his post Underwrite of Lose (Money)!.
Powering the plastic is a revolving line of credit (hence the name). Its issuer (let's call them the bank – not always the case, but close enough) underwrites you pretty much once, when you apply. You borrow from this credit line with each transaction, up to your limit (which will generally go up as you spend more and pay your bills), and the only real rule is you have to make the minimum payment to the bank every month….

It may be worth stressing that we do in fact underwrite every transaction. I highlight this because a few other BNPL providers (who mostly specialize in the 6-week loan variety) have been famously on the record about not underwriting their transactions at all. Their stated view has been that these low-value, ultra-short-term loans don't really need underwriting. They approve more or less everyone, and maybe some people won't pay them back, but they can write those losses off and treat them as a cost of borrower acquisition.
The rosy outlook and future prospects for Affirm, legitimately bolstered by their expansion in Shopify, Amazon, and Fiserv's ecosystems, are at the end of an incredible slide in their stock price in the past 12 months.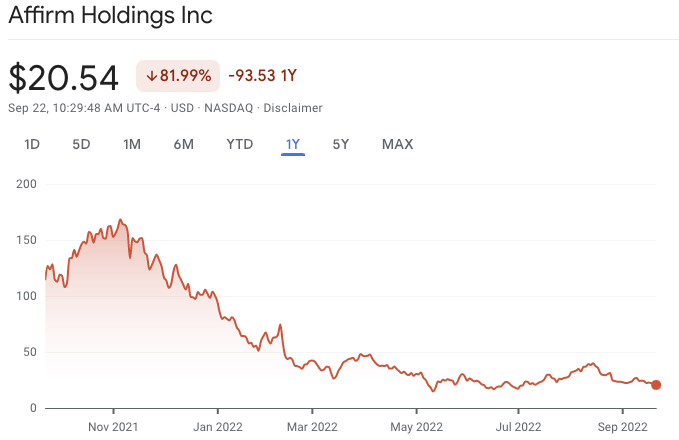 ---
3. BNPL comes to B2B
As for what's next in the space, CB Insights writes (full report behind paywall) on the funding flowing into BNPL startups targeting B2B and Fintechs enabling traditional banks with their BNPL offering.
Traditional banks are venturing into this space by partnering with startups that enable them to offer new lending products under their own brand.

Ohio-based Jifiti has partnered with Citizens Bank, one of the oldest banks in the US, to provide a POS financing option to retailers.
TD Bank is working with Amount, a digital banking startup, to allow bank customers to apply for loans via its mobile platform and get decisions in as little as 1 day.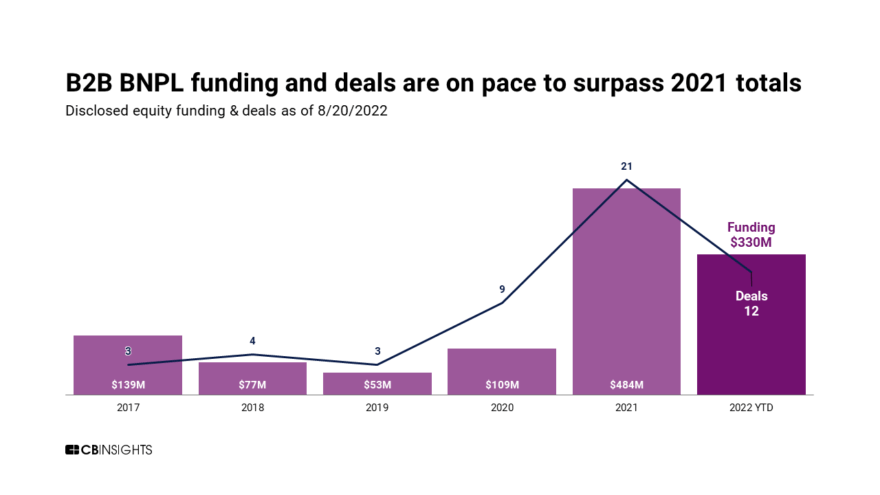 ---
So ends this week. With Fall here, it's time to give up on those unrealistic beach body expectations. Happy with our weekly drips of off-beat community banking news and dumb gifs (and that's with a hard 'G')? Let us know: blog@mindspaninc.com, and drop a share below.