As we roll into Fall, changing leaves, and weird Thanksgiving food, we also have the news worth reading. This week we look at:
Growing debt and delinquencies in consumer loan portfolios
The CFPB proposals that help and hurt fintech growth
A look at the increasing frustration of consumers and banking transparency
---
1. US Consumers Keep Tapping Credit as More Fall Behind on Payments
Jonnelle Marte at Bloomberg analyses the Fed Bank of New York report on Household Debt and Credit. One major trend is the quarterly rise in credit card debt, even as delinquencies rise.
Household debt increased by $228 billion last quarter, bringing the total to $17.3 trillion, the Federal Reserve Bank of New York said in a report on Tuesday. That included a $48 billion rise in credit-card balances to $1.08 trillion, marking the eighth straight quarter of year-over-year increases.

"Credit card delinquencies continue to rise from their historical lows seen during the pandemic and have now surpassed pre-pandemic levels."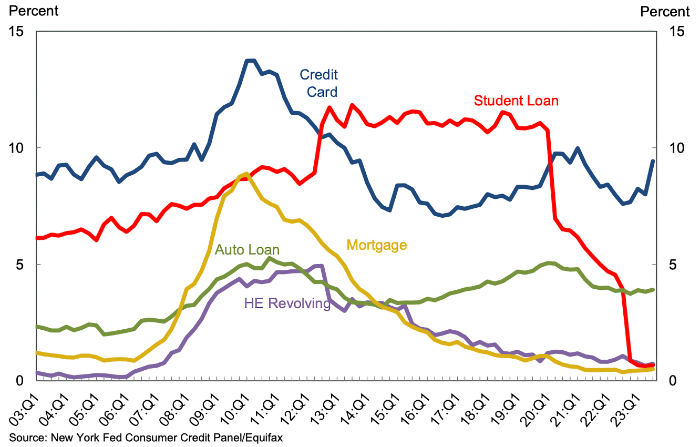 The full report and data set is linked here.
---
2. Fintech and the CFPB
In recent weeks, the CFPB has proposed two sets of rules about fintech and its relationship with the traditional banking system. We looked last week at their proposal to spur open banking. Fintech investors were delighted with the opportunity to access financial institutions 1st party data. From VC firm a16z:
"So how does this impact fintech companies? Overall, it's good. Banks are required to provide consumer-permissioned access to customer data and can't charge fees for doing so. This should theoretically make it easier for fintech companies to build personalized applications for consumers. That said, it will take time for this to be implemented and relies on banks providing and maintaining APIs, which they have no business incentive to do."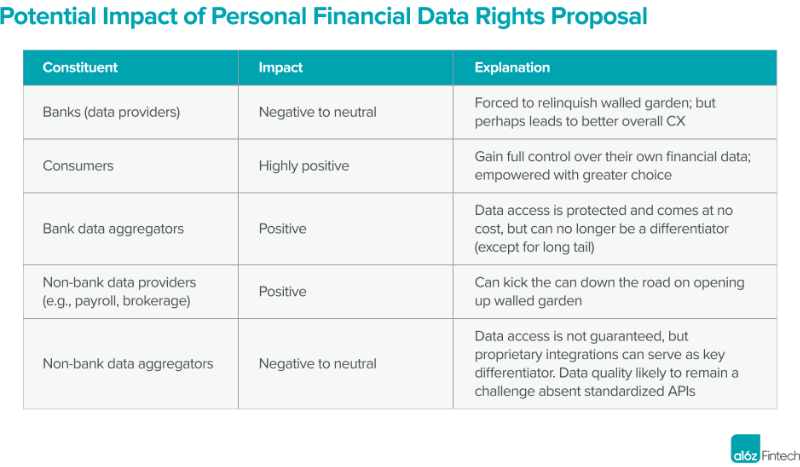 This week, the agency proposed rules to extend its purview over fintech payment apps. Included in the proposal for more oversight and transparency in preventing shadow currencies, and overall poor service and resolution many consumers have experiences.
"The traditional lines we drew within the financial sector have become fuzzy over the past several decades. Big Tech companies are now taking advantage of that blurring as they move into finance, threatening the fundamental separation between banking, money, and payments on one side, and our real economy on the other. They can engage in bank-like activities, either on their own or through complex arrangements with banks, without facing many of the same limitations and obligations."
One zinger at the end of agency director Rohit Chopra's comments:
"The Financial Stability Oversight Council should consider exercising its authority under Title VIII of the Dodd-Frank Act to designate this activity as, or as likely to become, a systemically important payment, clearing, or settlement activity. This could provide, for example, other agencies with critical oversight and tools to ensure that a stablecoin is actually stable.
---
3. "Every interaction of the user with it feels like being Bill Murray in Groundhog Day"
In response to a NYT article on the mystifying ways in which banks sometimes close customer accounts with no explanation, Ben McKenzie attempts to explain the systemic reasons this happens in the US banking system.
I hate sounding like a conspiracy theorist about banks, which for whatever reason seem to attract a disproportionate amount of attention from people who believe the Illuminati and lizardmen are conspiring to corrupt the free peoples of the world. And so ordinarily I do not want to say crazy things like "Sometimes banks suck because we want them to suck."

Sometimes banks suck because we want them to suck.
In addition to unpacking compliance issues like SARS and FinCEN, Patrick exposes the economic reasons why the left hand doesn't always know about the right hand.
Banks aggressively partition staff based on job duties and levels within those duties. The most relevant silo for retail consumers is actually a series of parallel silos which staff front-line phone support for the bank. Often, each line of business gets its own silo, which accounts for much of the Your Princess Is In Another Castle that happens when you call a bank with a seemingly straightforward question and then get passed between various departments.

Most of the times infelicities in the world have a logical explanation to them, a structural cause where each individual link in the chain sounded good at the time and the result just happens to be suboptimal.
I'd be interested in how much of Patrick's observations sound true to you. Click a feedback link below to let us know:
---
That ends it for the week. I usually put something snarky or funny here as an Easter egg, but the NYT has a really cool look at the insights about the universe the James Webb Space Telescope has already revealed. Concise, well written, beautifully executed, and worth looking at.
Click below to let us know how we did: