For this, the last Friday in March, an analysis of Amazon's (maybe?) aspirations to banking and a precedent to the risk of algorithms and models based on the legality/ownership of the data they're built on.
---
1. Amazon, Building a Bank or Embedding Finance?
CBInsights brings us an update on their research to Amazon's efforts with Financial Services. Spanning their core strategy and acquisitions both in the US and abroad, the report looks at where the tech giant played/is playing in payments, BNPL, SMB lending, deposit accounts, insurance:
In aggregate, these product development and investment decisions reveal that Amazon isn't building a traditional bank that serves everyone. Instead, Amazon has taken the core components of a modern banking experience and tweaked them to suit Amazon customers (both merchants and consumers).

In a sense, Amazon is building a bank for itself — and that may be an even more compelling development than the company launching a deposit-holding bank.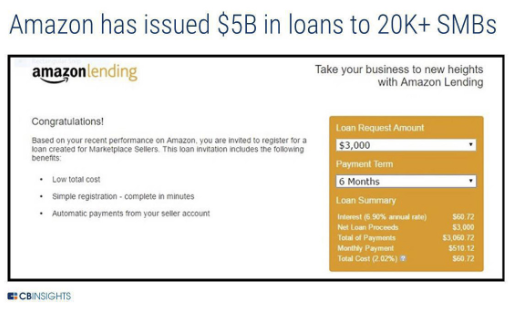 ---
2. Apple Buys Credit Health Fintech
Also in tech giants and fintech acquisition news, Apple this week announced their purchase of UK fintech Kudos. While both companies refused to comment on their strategy, this looks like an extension of their payment business, which took a shot at Block's Square offering with their announced Tap to Pay earlier this year.
Apple Inc. has bought London-based credit scoring startup Credit Kudos Ltd., continuing its push into payments technology, according to a person familiar with the deal.

Credit Kudos lets businesses assess loan applicants by analyzing banking data, such as user transactions, and offers a service for potential borrowers to assess their credit worthiness.
---
3. Weight Watchers and Fruit of the Poisonous Tree
Kate Kaye at Protocol writes on the FTC's enforcement action against WW International. The order was a precedent in using both the Federal Trade Commission Act and the Children's Online Privacy Protection Act (COPPA) in ordering the destruction of illegally collected data (from minors without parental permission) and the resulting algorithm and business models derived from it.
While in the past the FTC has required companies to disgorge ill-gotten monetary gains obtained through deceptive practices, forcing them to delete algorithmic systems built with ill-gotten data could become a more routine approach, one that modernizes FTC enforcement to directly affect how companies do business….

"The premise is simple: when companies collect data illegally, they should not be able to profit from either the data or any algorithm developed using it," they wrote. "The authority to seek this type of remedy comes from the Commission's power to order relief reasonably tailored to the violation of the law. This innovative enforcement approach should send a clear message to companies engaging in illicit data collection in order to train AI models: Not worth it."
---

With another week in the books, here's to making the old new again.. Did you get anything from this? Good or bad, drop us a line at blog@mindspaninc.com, and be sure to share a little of the Berry Brothers below.